XPEL Vehicle Paint Protection Film and Clear Bra Saves You Thousands In Repairs
Prevent damage from tree sap, road debris, rock chips, sand or bugs.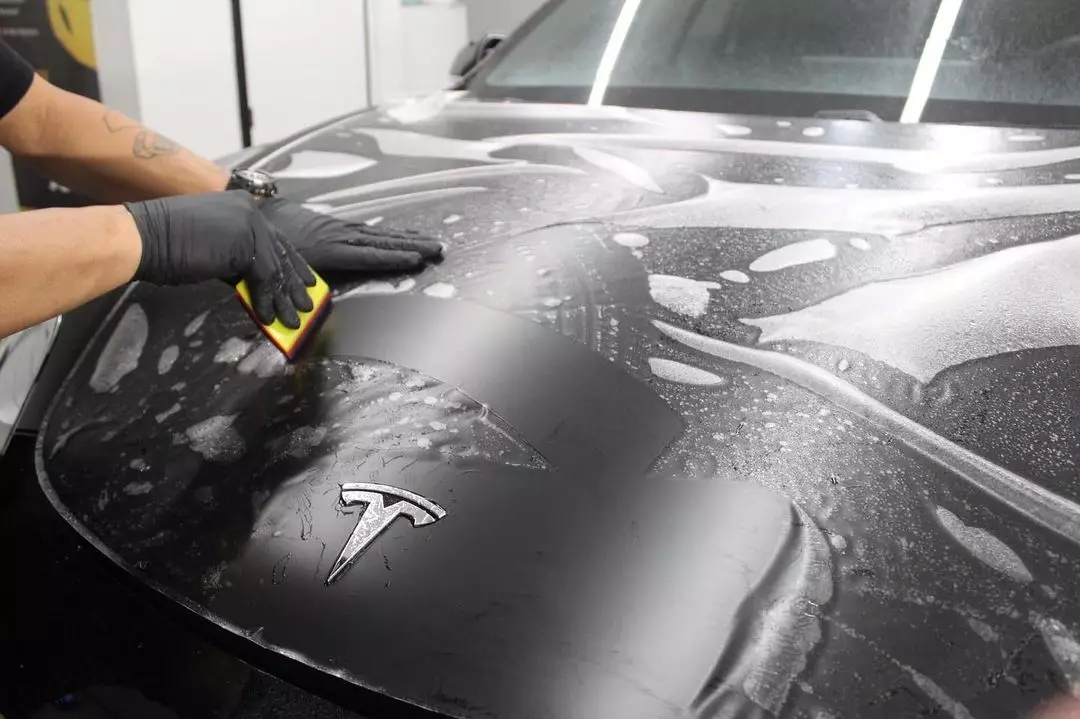 Tritek is proud to offer XPEL Paint Protection Film for the Dallas Texas area!
XPEL Paint Protection Film is your car or truck's virtual body guard, using a super strong and clear layer of protective film that keeps your car or truck's paint from damage and will actually help maintain your vehicle's value.
Paint protection film ensures that the paint on your car lasts as long as possible. Protect your investment by having clear paint protection film put to the most important components of your car or to the entire vehicle.
Paint protection film is the best defense against the elements, acid rain, rocks, sand, road debris, insect acids, and bird droppings.  Especially here in Texas, where we have Aphid "Honeydew".  XPEL Paint protection film is critical for keeping your automobile's paint looking new and preserving the new car shine for years to come.
This Paint Protection Film can be removed at any time, and doesn't require any special chemicals to remove it, if you choose to remove it later on.
Don't let your paint, exterior & interior surfaces take a beating. Explore a variety of protective films perfect for any application available only from XPEL.  All XPEL Paint Protection Film is installed by a professionally trained and certified paint protection film installer.
Why XPEL?  Like any product, not all Paint Protection Film is created equally. Many conventional paint protection films show scars and begin yellowing after a year of use.  XPEL ULTIMATE PLUSTM is a non-yellowing paint protection film that is constructed with an elastomeric polyurethane top coat.
What this means for you is, XPEL ULTIMATE PLUSTM can self-heal minor scratches and swirls in the top coat. If you are on the lookout for a satin finish to match your vehicle's flat factory paint, we have a film for you too!
Introducing XPEL STEALTHTM Paint Protection Film. Get the same level of protection as XPEL ULTIMATE PLUSTM, but with a sleek, satin finish. Once applied it becomes virtually undetectable to the naked eye
The XPEL ULTIMATE PLUS paint protection film is made up of a blend of sophisticated elastomeric polymers that prevent discoloration, yellowing, and hazing. XPEL's high-quality paint protection film is nearly invisible once applied and has the ability to rejuvenate itself from swirl marks and mild scratches. This unique coating protects against extreme weather, acid rain, stones, sand, road debris, insect acids, and bird droppings.
XPEL ULTIMATE PLUS protects your vehicle's paint from damage caused by overexposure to the sun, severe climates, and weather conditions, such as paint chipping and peeling. Paint protection film is always installed by a Tritek XPEL Certified Paint Protection Film installer who is fully trained and experienced. Tritek's certified professionals will install the best paint protection film on the market to protect the paint on your vehicle.
Watch XPEL Ultimate Plus Video
The same highly superior self-healing and protecting qualities as XPEL ULTIMATE PLUS were carefully created for XPEL STEALTH, but with a satin finish. This beautiful satin finish paint protection film is designed to keep matte paint appearing as fresh as the day it was applied. Swirl marks, minor scratches, hard weather conditions, acid rain, stones, sand, road debris, insect acids, and bird droppings are all protected by XPEL STEALTH once applied.
If you want to transform your vehicle's glossy finish to a matte finish, XPEL STEALTH allows you to do it without having to spend a lot of money on a new paint job that will be permanent. Paint protection film is always installed by a XPEL Certified Tritek paint protection installer who is fully trained and experienced. Tritek's certified professionals will install the best paint protection film on the market to protect the paint on your vehicle.
Watch XPEL Stealth Video
2518 W Kingsley Rd Suite 110

Garland

,

Texas

75041

Monday, Tuesday, Wednesday, Thursday, Friday, Saturday

9:00 am – 6:00 pm
Frequently Asked Questions About Auto Paint Protection
Which PPF (Paint Protection Film) is best: XPEL or 3M?
Check out our PPF Showdown and let us give you a side by side comparison (hint:  XPEL is best!)
How long does paint protection film last?
XPEL paint protection carries a 10-year warranty against yellowing, cracking, peeling, staining, and hazing, covering both film and labor.
Can paint protection film be removed?
Yes, it can! Tritek can do this for you, or you can try doing it yourself by heating the film with a heat gun and scraping it off.
How is clear bra PPF different from ceramic coating?
The paint protection film is thicker than a ceramic coating and has a chemical composition that allows it to self-heal.
Is paint protection on a car worth it?
Yes! It keeps your car looking newer for a longer period of time. That means less paint maintenance and a higher resale value on your vehicle.
Do modern cars need paint protection?
If you are offered paint protection at a dealership, it's probably best to turn it down. This paint protection isn't high-quality and doesn't last long. While there's no reason you MUST apply a high-quality paint protection film to your vehicle after purchase, it does allow you to retain the value of your vehicle
Can I wash my car after the paint protection film is applied?
Yes – but it's best to wait at least 48 hours to wash your car after the film is applied. This allows the protective film to dry completely.
What do car dealers use for paint protection?
Different dealerships offer various paint protections, but the most common is some kind of synthetic paint sealants. While these sealants do help to protect your vehicle they are less effective than ceramic of glass coatings (which are less effective than protective films).
Can you wax a car with paint protection film?
You can apply wax to a vehicle that has a paint protection film. Just make sure the wax doesn't contain Kerosene or Naptha in over 5% concentration. Also, avoid waxes that come with dyes.
What is the abbreviation PPF?
It simply means "Paint Protection Film."
Is clear bra for my car the same as paint protection?
Yes, putting clear bra on your car and PPF are essentially the same thing – just different ways to talk about it.