Home Window Tinting Reduces Heat and Glare
Enjoy a more comfortable space and save money.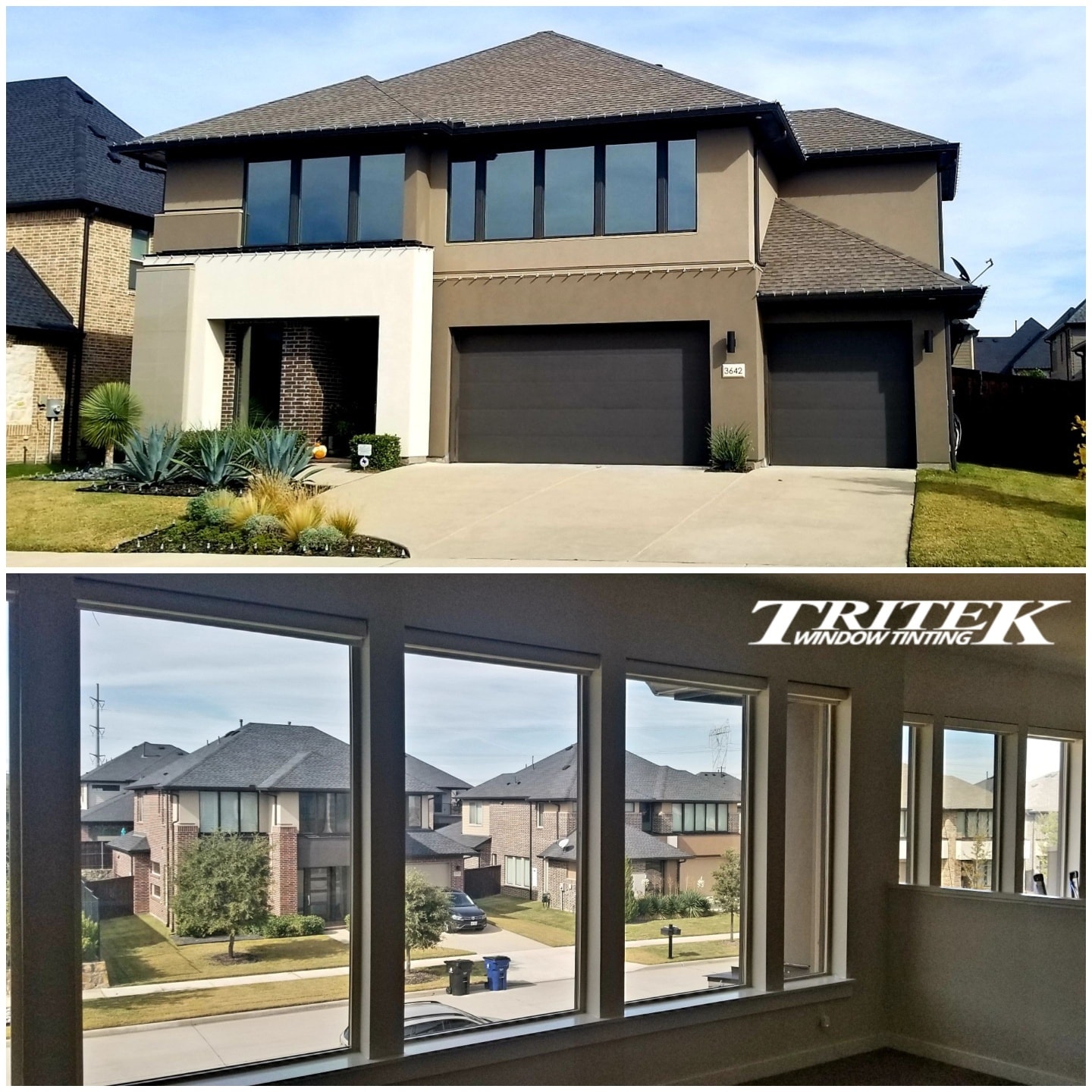 REDUCE YOUR A/C BILLS AND INCREASE PRIVACY WITH XPEL RESIDENTIAL WINDOW TINT
Tritek Tinting Offers XPEL's full range of solar and security film solutions. XPEL's offerings include the following benefits and offerings:
VISION Home Window Film is designed to help reduce heat, lower energy costs, and maintain the comfort and protection you desire.
GET THE WINDOWS IN YOUR HOUSE TINTED
Enjoy more comfortable rooms and more constant internal temperatures.
Lower your energy costs.
Prevent solar glare from causing eyestrain.
Stop interior fading and keep your valuables safe.
Protect you and your family from damaging UV rays.
Feel safer with complete solitude during the day.
Get a Free Quote
XPEL OFFERS A LIMITED LIFETIME WARRANTY
 You can be rest assured that this investment in your home, XPEL offers a lifetime warranty against peeling, bubbling, rippling, cracking, adhesive failure, delamination, and dementalization.
XPEL Window Tint can help prevent differences in temperature between different areas of a room as well as the rest of the house.  Sunlight entering through the windows accounts for the majority of the changes in temperature and window film has proven to be a very cost-effective solution. The three major benefits of window film are UV light reduction, solar energy rejection, and glare reduction.
At Tritek Tinting, the films we use are designed for any type of window manufacturer, and regardless of the claims that a window manufacturer makes regarding energy efficiency,  when window tint is applied, these windows become way more energy efficient.  Our XPEL residential window film comes with a limited lifetime warranty.
Get a Free Quote
The Key Benefits of XPEL's Residential Window Tinting Film
With XPEL's residential window tint, you will lower energy costs and ultimately window tint film can pay for itself.
Heat gain through your home's windows can account for a majority of your electricity usage simply from running the air conditioning.  Heat is prevented from entering your home in the first place by using window tint film.  Window tinting often pays for itself within a few years, and the savings continue for years to come.
Window film filters up to 98 percent of the sun's UV/IR rays, keeping your home cooler. Your home will feel better all year round because to window film's ability to absorb heat. The application of window film will allow you to enjoy every space in your home once again, reducing the intensity of sunshine.
Privacy During the Daytime
Tinted windows make it nearly hard to view inside the house during daylight hours.
Reduce the amount of interior fading by as much as 99.9%.
It's upsetting to learn that your priceless possessions have been harmed by the damaging ultraviolet (UV) light that can pass through glass and fade your furniture and floors.  By blocking invisible UV Rays, window film decreases fading by up to 99 percent.
Health and Wellness Benefits
Decrease harmful Sun overexposure and help reduce the risk of skin cancer, melanoma, cataracts and  other ocular degenerative disorders.
Tritek Window Tinting is the Dallas-Fort Worth metroplex's premier automotive, commercial and residential window tinting store. After being in business for over 20 years, we have built an incredible reputation for being one of the top tinting shops in the southwestern United States. With our headquarters located in Garland, Texas; We are conveniently located in the metroplex. Tritek was established in 1996 and has since built a reputation for outstanding quality and service, as well as products that last a lifetime.
With over 25 years of window tinting experience, Tritek's certified installation team will assure that you receive the highest quality film application available. Tritek takes pride in good business ethics, while offering a friendly and personal sales experience.
Tritek's mission is to provide customers with unmatched product quality and precision service that consistently meets and exceeds your expectations.
Call or email today – (972)926-5666 and let us show you how we can make your home much "cooler"!
THE TOP 6 REASONS TO TINT YOUR WINDOWS WITH TRITEK WINDOW TINTING
Improves comfort due to maximum heat and glare reduction
Shatter-resistant film deters "smash-and-grab" theft
Reduces fading and sun damage of your vehicle, home or office interior
Helps prevent sun damage to your skin by blocking 99% of UV rays
Up to 98% heat rejection and Up to 82% reduction in Infrared heat
Backed by lifetime transferable warranty
GET A FREE CONSULTATION
If you are interested in learning more about XPEL's VISION Solar Window Film, please reach out so we can answer any questions you may have.
Get a Free Estimate