Take Comfort & Protection
To The Next Level
Automotive window tint isn't just about keeping a low profile anymore. XPEL PRIME not only looks cool, it feels cool.  It outperforms other types of films to keep you comfortable and protected. Backed by lifetime transferable warranty.
THE TOP 6 REASONS TO TINT YOUR WINDOWS WITH TRITEK WINDOW TINTING
Improves comfort due to maximum heat and glare reduction
Shatter-resistant film deters "smash-and-grab" theft
Reduces fading and sun damage of your vehicle, home or office interior
Helps prevent sun damage to your skin by blocking 99% of UV rays
Up to 98% heat rejection and Up to 82% reduction in Infrared heat
Backed by lifetime transferable warranty
The use of window tint on automobiles is very common today. There are many different styles and shades to choose from. Most people think that window tint is just for appearance, it's not! Window tint does make your car look great but it also rejects heat from the sun, blocks damaging UV rays, reduces glare, and helps deter "smash and grab" theft among other things.
There is a perfect tint shade for every car, let us help find the perfect match for you. We guarantee you will get the best car window tinting in Dallas and surrounding areas. Call us today for a free window tint quote (972)926-5666
All patterns are cut with our computerized cutting system.
Our library of digital patterns includes most current makes and models as well as many older body styles.
Our tint kits will fit your car like a glove.
Get a Free Quote
KEEP YOU AND YOUR VEHICLE'S INTERIOR COOL
During the Summer in Texas, you need every bit of help you can get!  In a vehicle without tint, the interior can approach almost 200 degrees.. XPEL PRIME XR PLUS ceramic window tint that block 99% of UV rays and 98% of infrared heat.
BENEFITS OF XPEL WINDOW TINT
Blocks Up to 98% of the Sun's Infrared Heat
Everyone Rides in Comfort
IR / UV Blocking Film Can Reduce Skin Damage
Prevents Car Interior From Overheating and Sun Damage
Increases Driving Range for Electric Vehicles
Get a Free Quote
SHOULD YOU TINT YOUR WINDSHIELD AND/OR PANORAMIC SUNROOF?
Texas DPS states that:
A clear (un-tinted) UV film is allowed anywhere on the front windshield without a medical exemption being required.
Since the windshield or possibly a panoramic sunroof are the largest entry points for solar heat, we recommend you apply UV/IR blocking film on those areas.  Tritek Tinting can install a CLEAR UV blocking window film using XPEL's PRIME XR PLUS 80 that will keep your vehicle much cooler and keep your vehicle legal.
BENEFITS OF WINDSHIELD AND PANORAMIC SUNROOF UV/IR BLOCKING FILM
Rejects Up to 98% of the Sun's Infrared Heat and harmful UV light
Legal type of windshield film
Eliminates the Need for using annoying sun shades
Maintains a clear field of vision
Get a Free Quote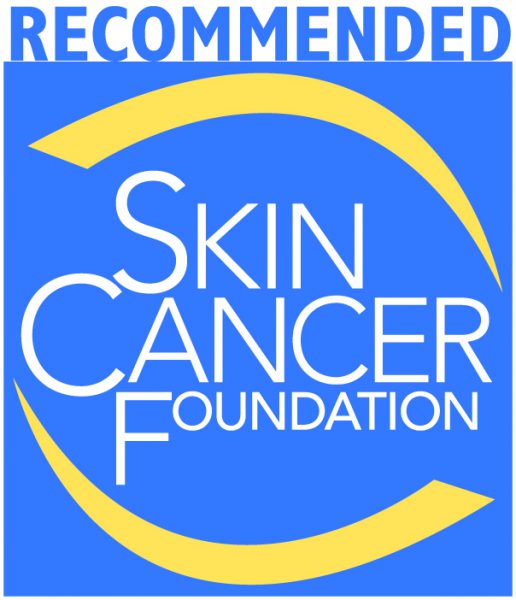 XPEL Window Tint is Recommended by the Skin Cancer Foundation
Any time you drive your vehicle in the daytime, your UV exposure to the sun's ultraviolet (UV) rays increases.  According to The Archives of Dermatology, dangerous radiation from the sun is associated with about 90% of all skin cancers. XPEL Window Film is recommended by the Skin Cancer Foundation as an effective UV protectant providing up to 1000 SPF.
The Skin Cancer Foundation recommends XPEL PRIME XR, XR Plus, CS & HP Window Tint as an effective protectant from harmful UV rays.
XPEL WINDOW TINT HEALTH BENEFITS
Protects Skin With an SPF Rating of Up to 1,000
Reduces Skin Exposure to Harmful UV Rays
Creates a Safer Driving Environment
Get a Free Quote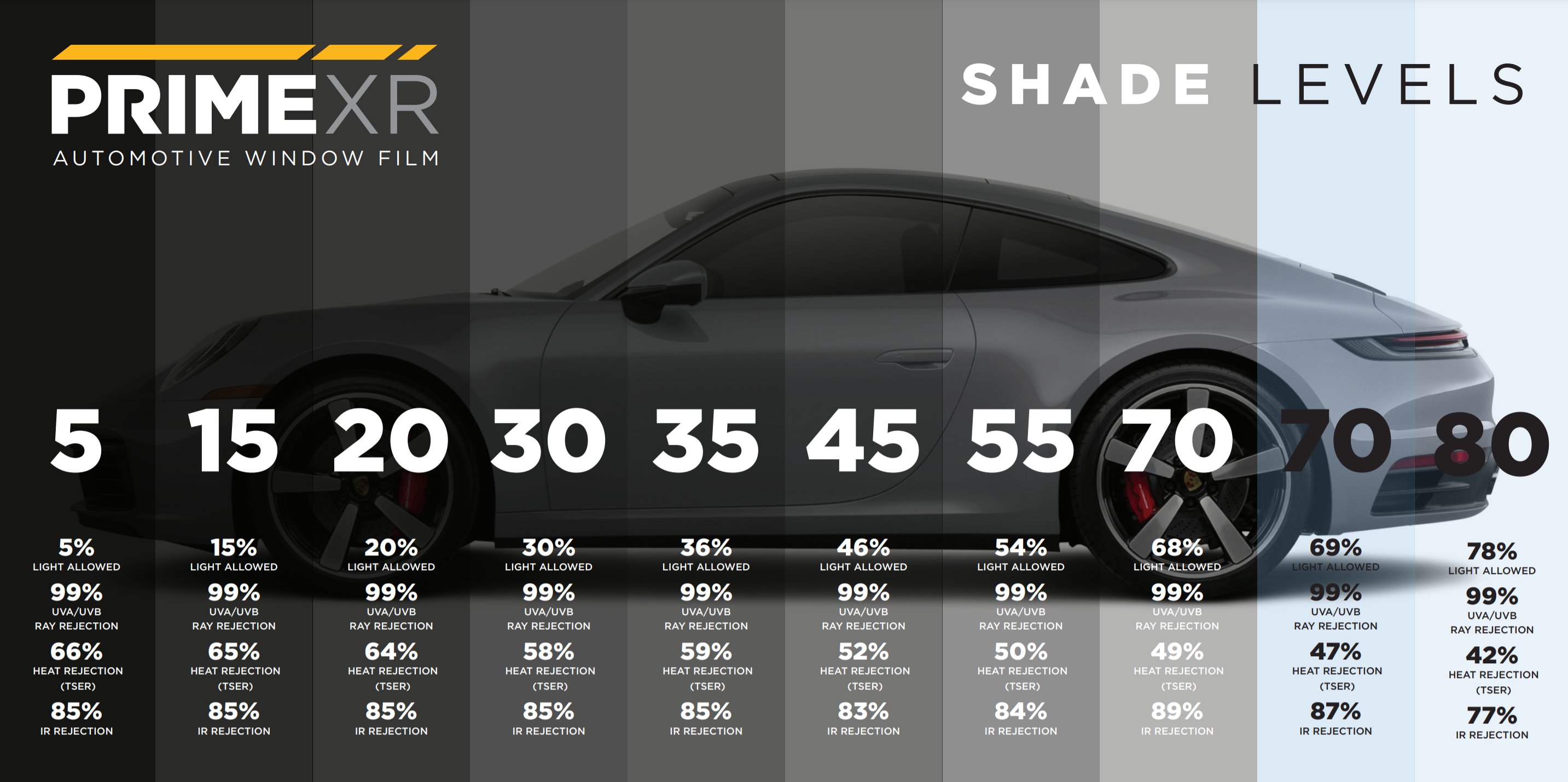 WINDOW TINT SHADE OPTIONS
Window tinting shades are measured by VLT (Visible Light Transmission). It is the percentage of light that passes through your window tint. We install any kind of window shade within the legal limit in Texas.
Get a Free Quote
XPEL PRIME XR & XR Plus Features
NANO-CERAMIC TECHNOLOGY
XPEL PRIME XR & XR Plus Utilize a nano-ceramic construction,  which maintains the same flawless appearance and clarity throughout the years. Blocking up to 88% infrared heat rejection.
SUPERIOR HEAT REJECTION
XPEL XR and XR PLUS have a multilayer nano-ceramic particle technology that blocks up to 98% of the infrared heat.
SUPERIOR UV RAY PROTECTION
PRIME XR & XR PLUS provides SPF 1,000 protection that effectively blocks over 99% of harmful UV rays that can lead to numerous skin cancers, premature aging and skin cell damage.
GREATER CLARITY
In the past, keeping cool meant choosing a darker shade of tint. The multi-layer nano construction in PRIME XR PLUS provides ultra-high performance without reducing outbound visibility.
CRYSTAL CLEAR SIGNAL
In a digital world, clear communication is key. PRIME XR and XR PLUS construction will not interfere with radio, cellular, or bluetooth signals.
2518 W Kingsley Rd Suite 110

Garland

,

Texas

75041

Monday, Tuesday, Wednesday, Thursday, Friday, Saturday

9:00 am – 6:00 pm
WINDOW TINT VEHICLE SIMULATOR
See how XPEL window tinting could look on the front, sides, and back of your vehicle.
Get View Simulator